On the eve of Christmas at the end of 2022, our after-sales technical specialist Bruce was invited to Russia to give customers technical training on the metal laser cutting machine LXF28025L. During this period, he visited other agents and established a long-term friendly cooperative relationship with customers.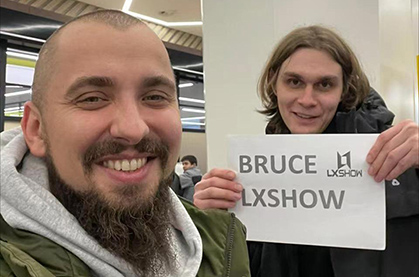 For fiber laser cutting machines, many customers may be in contact for the first time, and this Russian customer is no exception. Compared with traditional ordinary CNC cutting machine, fiber laser cutting machine for metal sheet has many advantages. Fiber laser cutting machine is a new type of processing equipment and a high-tech laser processing method. It relies on fiber optic cables for transmission, which is much more energy efficient than other types of laser transmission, and the conversion efficiency is very high. With these advantages, fiber laser cutting machines are welcomed by many customers.
The training customer this time contacted our business staff in April 2022 and purchased this metal laser-cutting machine. Our fiber laser cutting machine is mainly used for metal processing, its special wavelength is conducive to the absorption of various metal materials, So it's easier to punch, engrave and cut metal. Compared with the traditional CO2 laser cutter, when cutting six thicknesses of carbon steel, the fiber laser cutting machine only needs 1KW to achieve the cutting effect and speed of 3KW CO2. In addition, the operating cost of the fiber laser cutting machine is lower, which can bring higher processing benefits to the enterprise. Therefore, more and more buyers choose to purchase cnc laser cutting machine equipment from LXSHOW Laser and put it into the production work of their own factories.
The following is a video display of the on-site debugging of the machine after the technician Bruce arrived at the Russian customer's factory.
Since the fiber laser cutting machine is a continuous pulse laser in the laser emission mode, the smoothness of the cutting section is much higher than that of other cutting equipment. Not only is there no burr, but the machining accuracy can reach about 0.01 mm. In the face of these advantages, fiber laser cutting machines are completely superior to other types of processing equipment. Although the purchase cost is higher than traditional equipment, it is far superior to other equipment in terms of return on investment period. When choosing a good machine, price should not be the only factor that buyers should consider, quality and after-sales service should be the key factors.
Jinan Lingxiu Laser Equipment Co., Ltd. has a strong pre-sales service and after-sales technical team, as well as many international technical service specialists who are proficient in foreign languages. They can not only communicate in English fluently but also know the operation and use of the machine. We have a complete pre-sales service system, which can quickly answer customer doubts, communicate clearly and efficiently, and provide customers with reasonable solutions. Customers can contact us through online consultation on the website, email consultation, telephone consultation, WhatsApp or WeChat, and other communication tools, and inform the business personnel of the equipment, services, or questions they need. Our sales staff and sales engineers will pass understand the various physical properties of customer materials, cut workpiece requirements, estimate investment costs, recommend fiber laser cutter for customers, introduce equipment performance, plan equipment selection, inform equipment prices, and a series of services.
Through the preliminary consultation, customers can arrive at our production base for on-site inspections through different modes of transportation.We will arrange company business and factory-related technical personnel to conduct accompanying visits.It is also possible to provide us with the customer's material samples, and the incoming materials are tested and cut by the test machine in our factory, and the sample analysis report or test product report is obtained, and then according to the specific discussion results of the customer, combined with our existing configuration options in the customer industry model experience, planning the best design.
Customers can fully understand our laser cnc machine through our on-site material testing video, factory equipment photos, graphic design drawings, product instruction manuals and other materials.
If customers want on-site inspections, the company will send relevant salesmen to accompany customers to visit our sample equipment exhibition hall, inspect our laser metal cutting machine production process, explain the laser cutting process, and let customers have a more intuitive impression of our production scale and product equipment.
Through our early communication with customers, we issue equipment quotations and technical drawings detailing the configuration requirements for customers to review before drawing up a cooperation contract.
Not only excellent pre-sales service but also a complete after-sales service system. The after-sales technical specialist carefully guides customers and responds quickly to customer feedback. When Bruce went abroad to train machines for Russian customers, he also gave other cooperation with customers and made a considerate return visit.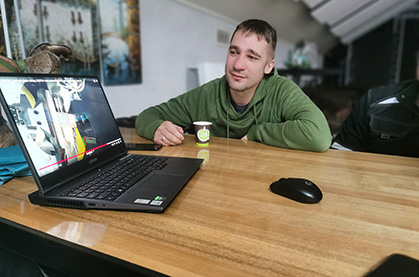 After our metal laser cutting machine is sent to the customer's designated place of use, the after-sales service program will be started. We strive to provide customers with perfect after-sales service, establish an after-sales service team, form an effective management mechanism from installation, commissioning, maintenance, training, and return visits, and establish after-sales service files to ensure that after-sales service is traceable, spare parts are supplied in a timely manner, and maintenance efficient. For the equipment entering the installation and commissioning stage, according to the actual situation of the customer and the future use conditions, while we complete the commissioning work, professional trainers will train the management personnel or operators on the customer's site to explain the structure of the purchased equipment and complete the process from unfamiliarity to understanding, and detailed guidance on equipment installation, equipment commissioning, safe production, and maintenance processes, until users can fully use the equipment correctly.
The picture below shows that after Bruce, our after-sales technical specialist, explained the demonstration to the technicians of the agent, the agent explained it to the operator of the terminal factory.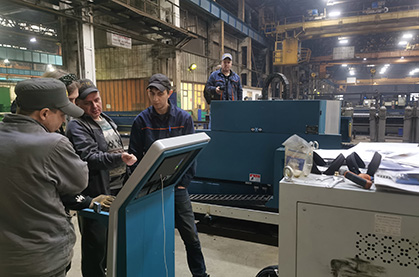 We provide customers with a full set of detailed machine instruction manuals, which indicate various safety precautions and how to use the equipment correctly so that customers can use cutting safely; the manual shows in detail the comprehensive anatomy of the equipment and the marking of each component of the equipment, the list of wearing parts, let customers fully understand the structure of the machine, and also provide a great convenience for customers to purchase accessories; the manual also lists detailed equipment maintenance items, which is convenient for customers to formulate maintenance plans and prolong the service life of equipment; Customers can also view the installation, commissioning, and other information of the equipment in the manual.
In the later equipment service, we respond to the customer's online information and emails in a timely manner. For products that need to be repaired, if the situation is relatively simple, we can quickly solve it through online guidance and resume production. For products that need to be replaced or other important problems, our after-sales personnel will arrange corresponding personnel and solutions in a timely manner.
We are deeply aware of the problems reflected by after-sales service or customers, and the accumulation of experience in product maintenance, which plays an extremely important role and value in improving product quality and improving the technical level of the enterprise. We will organize and analyze them and will continue to have an optimized design and make full use of more advanced technology, to provide customers with better laser product equipment.
Therefore, as long as you order a fiber laser cutting machine from Jinan Lingxiu Laser Equipment Co., Ltd., you don't need to worry about after-sales service. We have a 24/7 online after-sales service guarantee. If you have any problems during use, you can email us or contact us in other ways at any time, and let our technicians determine the problem and help you solve it.
In order to facilitate customers getting familiar with the machine, we can also provide not only the user manual but also related videos as a guide.If you need it, you can send us an email via inquiry@lxshow.net, and we can provide you with the LXF series manual and machine demonstration video of the laser metal cutting machine for free.
Fiber Laser Cutting Machine Warranty:The whole machine (including the generator) has a three-year warranty.